Merry Christmas and Happy New Year!

We've been so busy, I've been neglecting our blog! Dylan is down for a nap (well, he's supposed to be sleeping but he's sitting up in bed dancing to his lullaby music shaking his baby Jack and yelling mama randomly!!!) He'll fall asleep eventually...his first nap of the day he likes to play in his crib for 10-20 minutes before he decides to actually sleep!

Well, Dylan's first Christmas was so much fun! He did so well being off his routine, and I'm glad he's the age that he is b/c he got to enjoy playing with new toys and the most fun part--unwrapping his new toys! I spent all day yesterday reorganizing b/c he has so many new toys! Dylan was a little grumpy at times due to his other front tooth coming in (it finally broke through yesterday!) but he did very well regardless!

Christmas Eve started out with Dustin getting this horrible stomach flu and going to the ER that morning b/c he couldn't keep anything down (and I mean anything!) Poor daddy, was pretty sick on Christmas Eve and had to keep his distance from Dylan.
**********************************************************
The first stop on Christmas Eve was at my Grandma's house. Grandma got Dylan a Cabbage Patch Kid...she did this for all of her grandkids when we were younger (about 20 years ago) so she had all of us bring our Cabbage Patch kids and take a pic with Dylan in it now (we have a picture of us all from 20 years ago!) I love this pic b/c it's so chaotic and fun!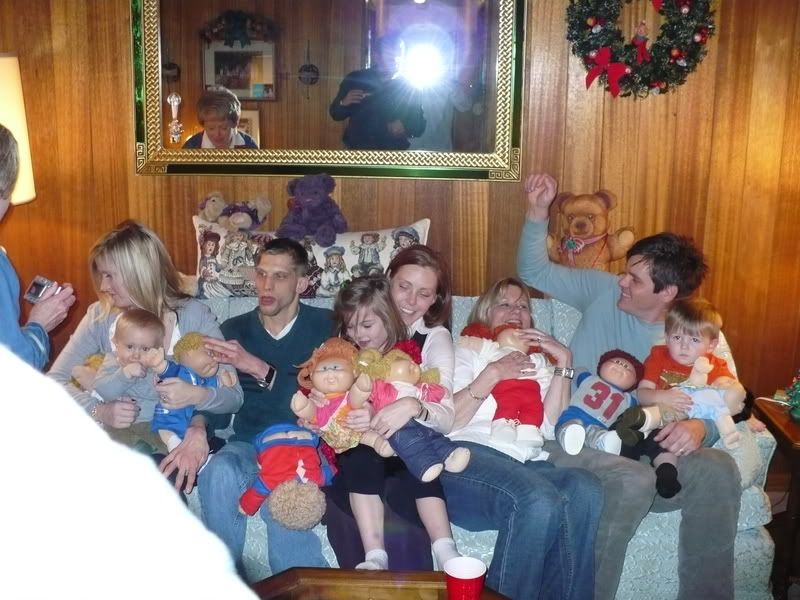 The next stop was Christmas Eve service at church with Dustin's family. Dustin stayed behind to rest. Dylan did great during the service! Afterwards, we went to Dustin's parents house. Dylan really enjoyed opening his gift and the dogs did too (three crazy dogs always makes for a fun Christmas eve)! Everyone just got gifts for Dylan and we all made donations to Riley as gifts to each other. You can see how tired the dogs were getting from this pic...they were panting pretty hard!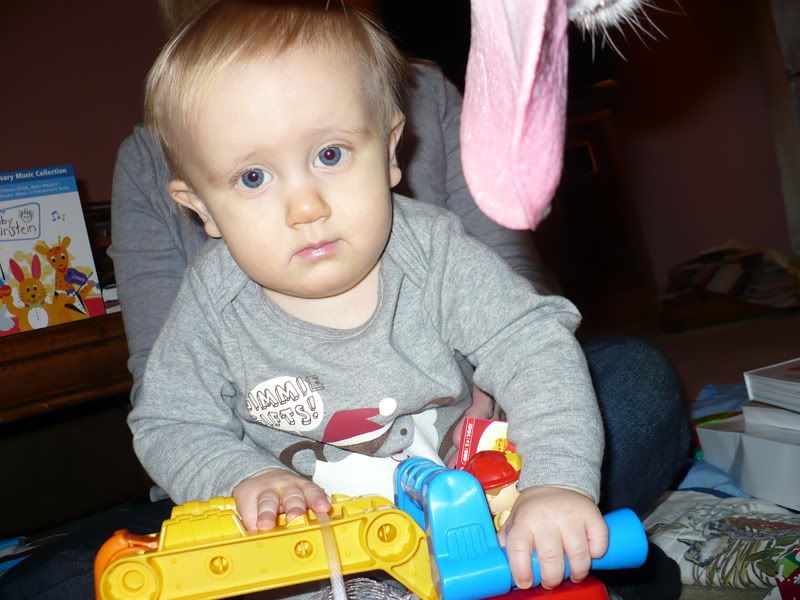 Watch out for that dog tongue, Dylan!
**********************************************************
The next morning, Dylan woke up to find Santa Claus had been to our house!
He really enjoyed opening his gifts and smiling for the camera!
We made the 2 hour drive down south to visit the rest of Dylan's great and great-great grandparents. He had so much fun, but made sure to keep mommy and daddy close in sight due to his whole separation/stranger anxiety he has going on right now.

Exhibit A: With silly mommy--very happy!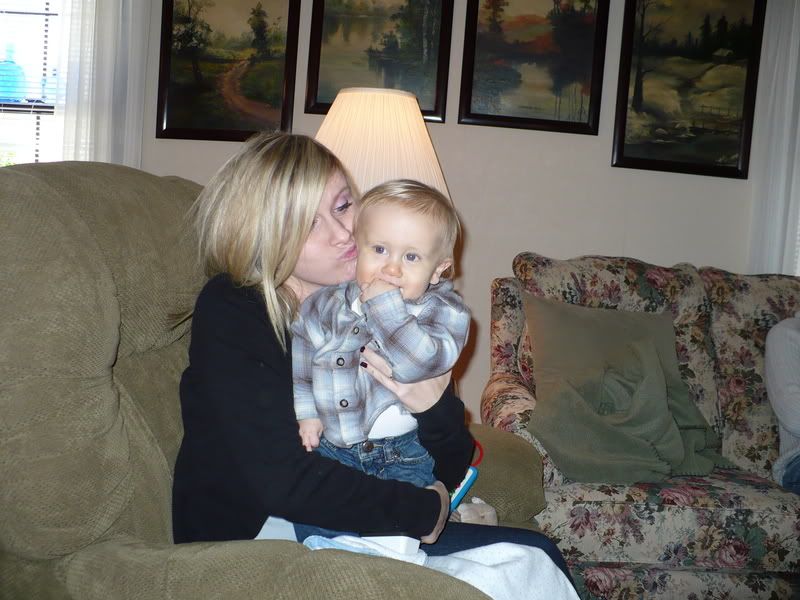 Exhibit B: With great Uncle Howard--not so happy (but he got over it quick!)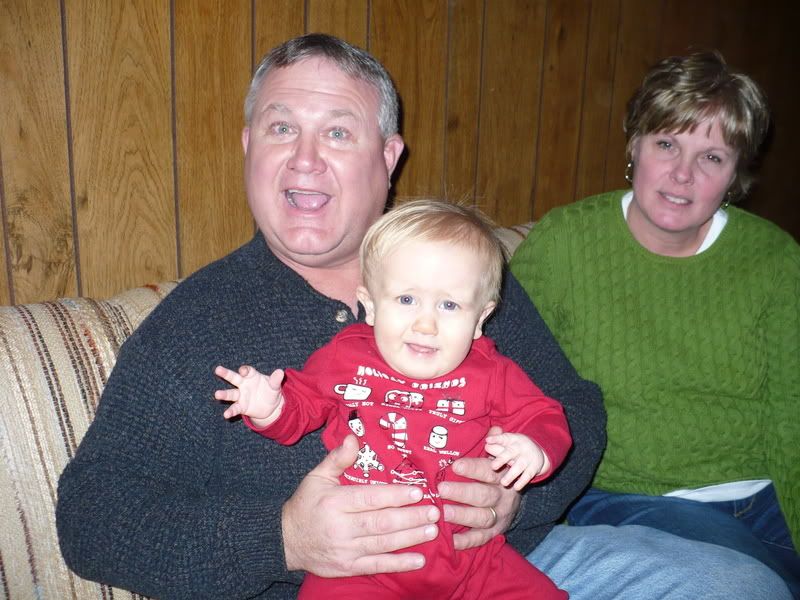 *********************************************************

I have the whole week off so I've been trying to get some pics of Dylan in action.
He has finally figured out how to stand up!
He is enjoying his new bike Santa brought him
(although only his tippy toes barely touch the ground!)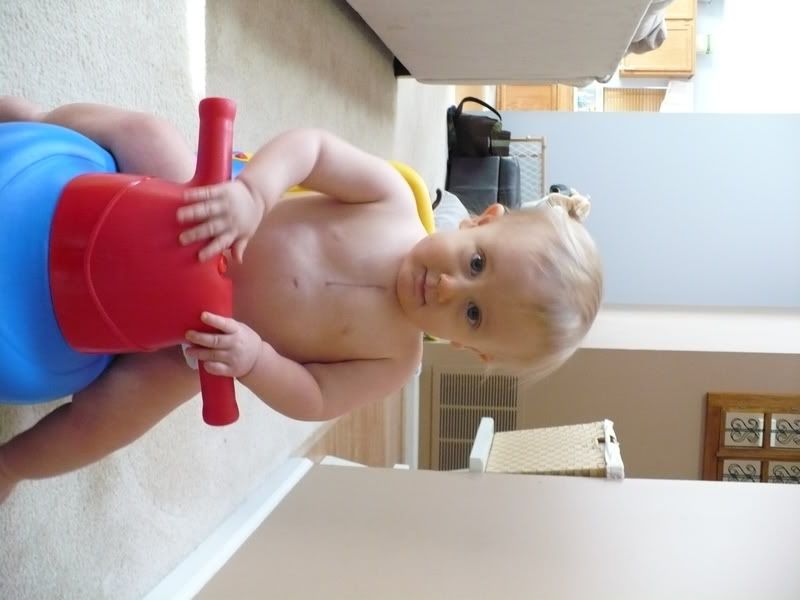 Dustin got this great shot of Dylan taking a nap...he always has to hold onto his baby Jack! Baby Jack has been with him since Mamaw got him for Dyl when he was born. Baby Jack has been in every hospital bed with him! Dylan is very into stuffed animals right now and loves to hug them!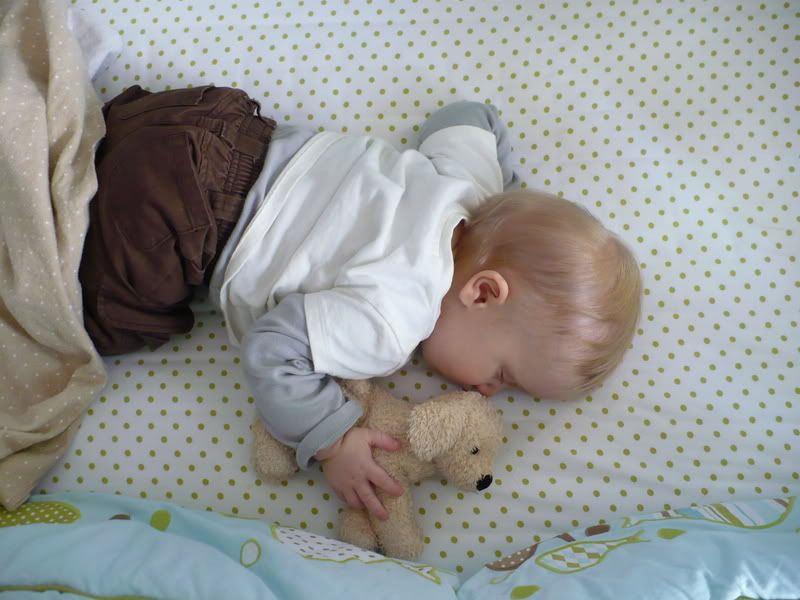 And lastly, a cute shot of Dyl with his bed head (this pic really doesn't do it justice)!
His hair is getting so long and it looks different every morning when he gets up!