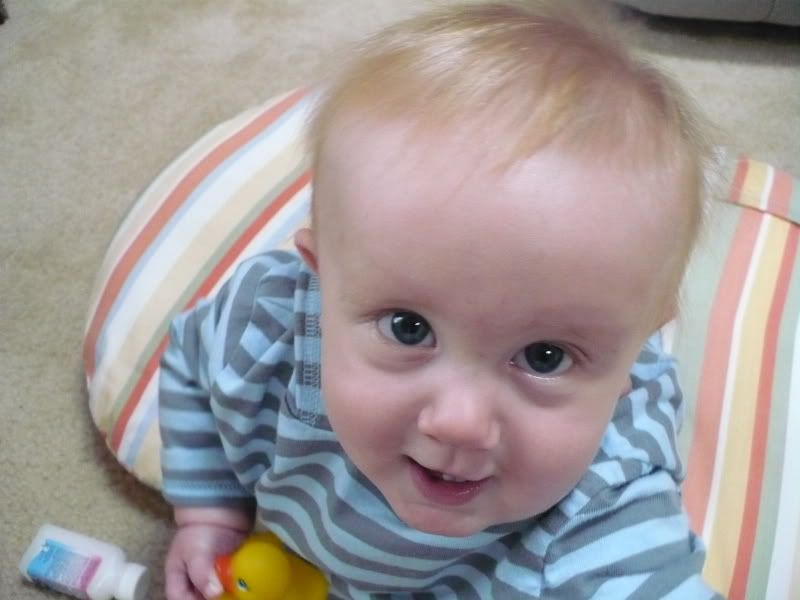 Well, my baby is 8 months old today and is having open heart surgery! He goes in at 7:15am and it should take 4-5 hours. I will try to update when I can. I can't even begin to thank everyone for all the prayers they have said for Dylan and us. It means so much to us and I don't think there is any way to show how grateful we are to have such great family and friends and even strangers reaching out to our family.


In the meantime, let me fill you in on what Dylan has been up to!
Eats about 3 solids a day...we had a ton of Gerber foods we wanted to use up, then I pureed a few different veggies for him and he hates them! I think mine are too plain so we're trying to get him used to his veggies again (of course he still loves fruit!)
Rolling all over the place! Because of his low oxygen, he just doesn't have the energy to crawl (and it breaks my heart b/c he gets so frustrated!) He resorting to rolling in order to get to where he wants now.
Loving his stuffed animal, "Puppy." He grabs him every morning off his dresser on his way to breakfast and smiles SO big when he does!
He loves banging/hitting things together to make noise.
LOVES Puffs! I swear he could eat a whole container! He loves feeding them to himself now and dodges our hand when we try to put one in his mouth for him.
Loves to squeal (especially to get our attention when we're not talking to him)!
Still says

num

num

while he eats!
Pulls up to his knees.
Loves to sit in our laps when we sit on the floor with him to play.
He's very good at using his pincher to pick up things.
His hair is getting longer and longer...he likes touching it when it tickles his ears.
Starting to have a little stranger anxiety it scares him to tears sometimes when there is a really loud, unusual noise.
Here are some fun pics for your viewing pleasure! Please continue to pray for us this week!